www.violinpedagogyaustralia.com

---
---
---
---
---
Charles Dancla, the last representative of the Classical French Violin School
The study of the works of renowned teacher-composers can expand the technical and musical development of a violin student. This thesis will be illustrated by examining the compositions of the French violinist and composer, Charles Dancla.
Dancla studied with Baillot, one of the founders of the Paris Conservatoire and the Classical French Violin School, gaining a premier prix as a violinist in 1833. He became an opera orchestra leader, soloist and chamber musician, eventually taking up a position as violin teacher at the Paris Conservatoire which he held for over 30 years.
Dancla composed, among other works, numerous string quartets and violin pieces. He was known for his lightness in bowing style and fine trills. Like his teacher Baillot, melody and musical expression were at the forefront of Dancla's work. His main legacy, however, lies mostly in his didactic compositions.
Dancla's op. 123, op. 89 and op. 118 (collections of short pieces in ascending order of difficulty) are often well liked by students and, because of their obvious structure, are relatively easy to play from memory. They can serve as ideal performance and eisteddfod pieces at various stages of technical and musical development. His compositions based on well-known themes provide an ideal basis for creative expression and open minded learning.
The structured finger exercises op. 74 are particularly valuable for developing finger dexterity, position awareness and finger flexibility. His earlier studies op. 68 can provide excellent material for refining bow strokes. With his op.73 studies, Dancla gives the student opportunity to refine left hand technique, double stop playing and fluency.
In this presentation, a selection of Dancla's works suitable for various stages of development will be analysed and related to the current AMEB syllabus in order to demonstrate how the students' learning can be expanded and enriched by a purposeful selection of learning material. Some pieces for two and four violins will be discussed that can inspire students and teachers alike in their endeavour to learn, improve and play.
To clarify what can be learned, students will perform some excerpts from Dancla's compositions. Special attention will be drawn to musical structure, rhythm, bow division and articulation, tone production and expressive playing, and, in the duos, listening and learning from each other.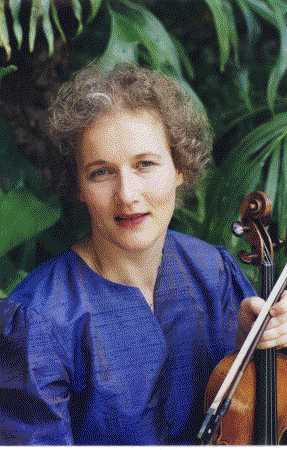 Elisabeth Mitchelmore
(violin) was born in
Germany
. After gaining a Bachelor of Music at the Stuttgart College of Music, she undertook postgraduate studies in
Switzerland
and
Australia
. Elisabeth was for many years a member of the Munich Chamber Orchestra and has worked as a free lance player with
Sydney
's major orchestras. She has also been active in the chamber music field, including solo performances for ABC and 2MBS-FM. Elisabeth has been teaching at the Sydney Conservatorium for several years and is an AMEB diploma examiner.